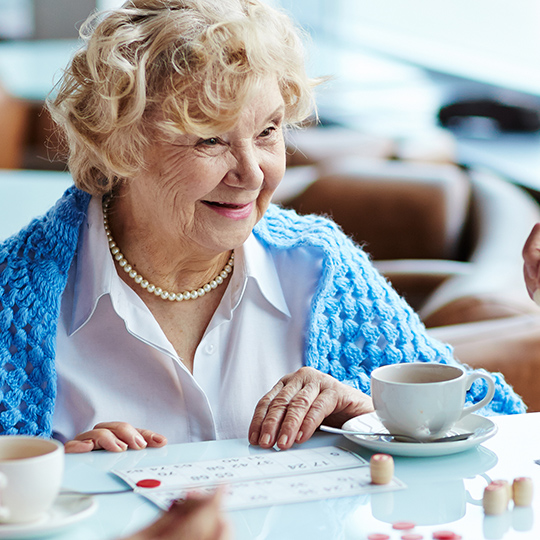 Live the Good Life
Birchwood Arbors is a place where you can truly be your best self. Our accessible facilities and charming design create an engaging, stress-free environment.
Individuals of all kinds come to stay with us, so we work hard to make all our services flexible. We also offer a variety of dynamic programs and events.
Want to see what else Birchwood Arbors has in store? Contact us today and arrange a visit to our community!
Featured Community Services
Our Wellness Wheel is built to address every resident's unique needs. We designed this program to promote a holistic approach to good health for our seniors and give their families peace of mind.
The Wellness Wheel is comprised of our six dimensions of wellness, which include:
Physical: promoting healthy and engaged lifestyles.
Spiritual: encouraging residents to life with meaning and purpose.
Social: facilitating interactions between friends, family, and community members.
Emotional: acknowledging and exploring feelings.
Intellectual: inspiring residents to embrace their creative side and seek new knowledge.
Vocational: empowering residents to use their skills to express themselves.
Our Enriching Connections program provides specialized training for staff members who work with our memory care residents. It shows them how to create structured care plans for patients with dementia so that they can continue to live as independently as possible.
Enriching Connections is based on 7 core values:
Relationships & Community: Our community is all-inclusive, and we work hard to build genuine connections.
Commitment: Every member of our organization from the top down is actively involved in caring for our residents. Our goal is to provide quality, person-centred care.
Certification & Training for Staff: Every member of our memory care staff (including management) must be certified by the Alzheimer's Association and receive additional memory care training.
Services: Our nursing staff works with each resident's family to create personalized wellness plans. These plans encourage independence, empower residents to make their own choices, and help preserve their dignity.
Meaningful Life & Engagement: We use our Wellness Wheel to improve quality of life for our residents, using a multidimensional approach.
Environmental: Our qualified staff members are constantly on the lookout to make sure our facilities remain accessible for people with dementia and cognitive challenges.
Accountability: We work hard to provide first-rate care, and always act on the feedback we receive.
Staff members who complete their Enriching Connections certification are able to provide meaningful and effective care to residents with dementia, Alzheimer's, and memory loss.
Our Integrative Health program provides non-pharmacological support for mind, body, and spirit. It is intended to supplement our medical services and support residents on their journey towards health, healing, and harmony.
Integrative Health includes the following therapies:
Essential Oils: These plant extracts use pleasant aromas to help restore physical and emotional stability. They may be effective in helping individuals manage pain, anxiety, and nausea. Essential oils may also have beneficial properties for memory, mood, and learning.
Hand & Foot Massage: Using a light touch to massage the hands or feet can be extremely relaxing. We sometimes use essential oils in conjunction with our massages to create a more complete sensory experience.
Healing Music: Soothing music can help people deal with stress and express their emotions. We choose specific music to create a serene atmosphere, and often arrange live music performances for the community.
Guided Imagery: The imagination is a powerful tool. Directing your thoughts towards healing may be therapeutic for residents who experience pain, anxiety, or trouble sleeping.
Energy-Based Healing Modalities: we use trained practitioners to offer Reiki or healing touch guided by intention. Many people report feeling calm and well-rested after these sessions.
Integrative health services are provided by our nursing staff as well as Community Life staff. Contact us to learn more about these therapies and how they may help support your wellness goals.
Other Services
Every senior in our care can access the following services:
3 chef-prepared meals a day
Light weekly housekeeping
On-site access to licensed nursing staff, 24/7
Daily "I'm okay" check-ins
An emergency response system
On-site maintenance
Customizable programs based on our Wellness Wheel
Additional personal care services
24/7 building security
And more…
Community Amenities
Residents at all care levels can enjoy our shared amenities, including:
Dining rooms
Fireplace lounges
Firepit
Spaces to enjoy TV, games, and books
A chapel for spiritual services
A therapy and wellness room
Salon for men and women
An arts and crafts area
Complimentary laundry facilities
Raised garden beds
Outdoor spaces
Where to Find Us
We'd love to show you around – so come say hello! We are located immediately South of highway 61 and highway 8 corridors.
Email Us
Executive Director:
Frank Robinson [email protected]
Assistant Executive Director & Marketing Director Email:
Madison Bates [email protected]
Contact Us
Birchwood Health Care Center (Transitional Care, Long-Term Care and Memory)
Address:
604 NE 1st Street
Forest Lake
,
MN
55025
Phone:
651-464-5600
Birchwood Arbors Assisted Living
Address:
750 NE 1st Street
Forest Lake
,
MN
55025
Phone:
651-466-1000