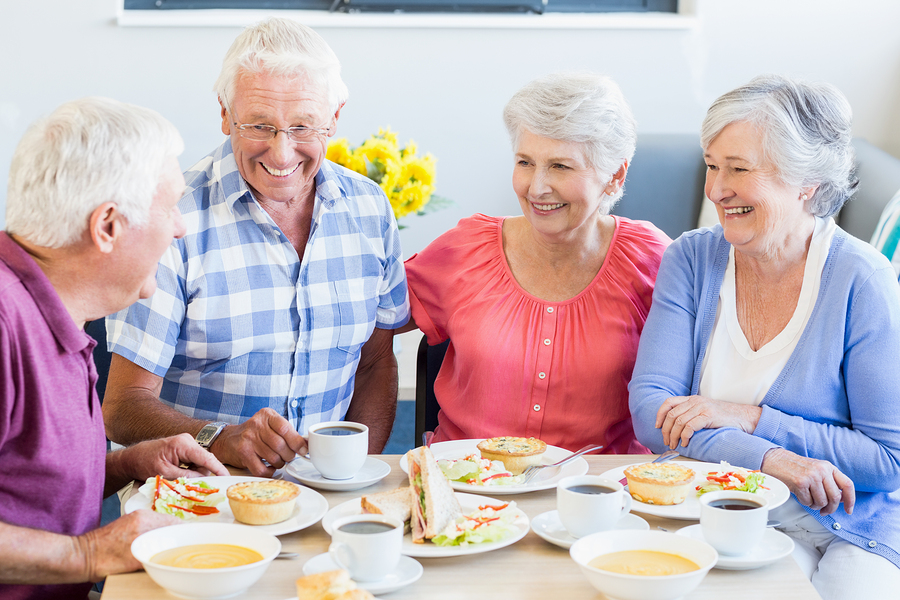 Why choosing an assisted living community is more beneficial than remaining in your home.
As we mature, managing both physical health and a household simultaneously can become extremely challenging. Assisted living offers a positive and safe environment where seniors are able to relax and enjoy life to its fullest.
• Increased Socialization
Catching a smile from a friendly neighbor goes a long way. According to a recent study conducted by Harvard University, seniors who maintain an active life-style are happier, healthier and more likely to live longer; engaging in social activities gives seniors a sense of well-being and a purpose to life.
• Transportation
The ability to remain as independently mobile around the community is important to most seniors, however as we age our reflexes slow, muscles weaken and flexibility decreases. The lack of these essential motor skills makes operating a vehicle very difficult. Assisted living communities allow seniors the luxury of free bus transportation to and from local events, appointments, errands and outings. The days of relying on others' availability to get them around town are over.
• Dining
Aging creates obstacles to eating well, and meal preparation can become challenging. Many older adults who live alone prepare prepackaged foods that can easily be warmed in the microwave, and often dine in solitude. Assisted living offers a welcoming dining experience with friends and neighbors. It also provides seniors with nutritious meal options and accommodates for special dietary needs. A healthy eating life-style is a key component to remaining strong and aging well.
• Housekeeping & Laundry
The time and energy-consuming task of daily household chores are more difficult to tackle as our bodies age. Becoming a resident of an assisted living community means the days of scrubbing floors and cleaning toilets are over! Assisted living provides professional housekeeping, as well as linen and maintenance services.
• Safety
Elders who live alone are more vulnerable to accidents that can result in a hospital stay. Many older adults and their children worry about if help will be available in a timely fashion when it is needed. Living within a senior community will help alleviate the stress and anxiety that consumes many families and their loved ones. Assisted living communities are equipped with 24 hour emergency call systems in place and on-site staff to assist in times of need.
• Exercise Programs
According to the Centers for Disease Control and Prevention (CDC), "Older adults can obtain significant health benefits with a moderate amount of physical activity, preferably daily. A moderate amount of activity can be obtained in longer sessions of moderately intense activities (such as walking) or in shorter sessions of more vigorous activities." Assisted living offers daily on-site opportunities to improve mobility, strengthen muscle and improve overall wellness.
• Promotes Independence
Assisted living communities allow seniors the freedom to maintain their independence, and control how they spend their time. Seniors receive discreet supportive care services tailored to meet their individual needs, delivered by dedicated and well-trained team members.